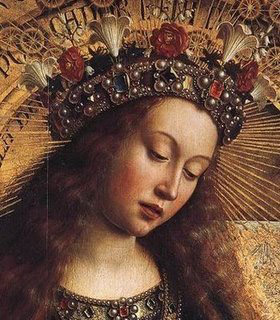 We pay greater honour to Mary, the Mother of Christ, than to any other saint.
Even in her lifetime, Mary had great honour paid to her; at the Annunciation the angel Gabriel addressed her as "full of grace" and "blessed among women" (Luke i. 28). As a result of the evidence of an angel reverencing a person, St. Thomas Aquinas concluded that "Mary excels the angels in dignity." We see how respectfully Elizabeth treated Mary; she called her 'blessed' and was the first to give her the title 'Mother of her Lord' (Luke i. 42,43). Mary herself foresaw that she would be praised by posterity, for she said in the Magnificat "From henceforth all generations shall call me blessed" (Luke i. 48). The church encourages us to give Mary special devotion, three times a day the Angelus bell reminds us of the mystery of the Incarnation, many festivals have been instituted in her honour; the Litany of Loreto is recited at the public services of the church; the fairest month of the year, May is dedicated to her and October is the month of the Holy Rosary where its recital is particularly encouraged. Signal graces and favours have been and are obtained through the intercession of Mary, not least at the renowned places of pilgrimage. She has been given many titles such as "Queen of Heaven", "Help of Christians", "Mother of mercy", "Refuge of sinners", "Morning Star" etc.
Exalted honour is due to Mary but the Father, Son and Holy Ghost alone do we adore.
For more about the Mother of God click here.