On the evening of August 21, 1879 Mary McLaughlin, the housekeeper to the parish priest of Knock, County Mayo was astonished to see the outside south wall of the church bathed in a mysterious light; there were three figures standing in front of the wall, which she mistook for replacements of the stone figures destroyed in a storm. She rushed through the rain to her friend Margaret Byrne's house.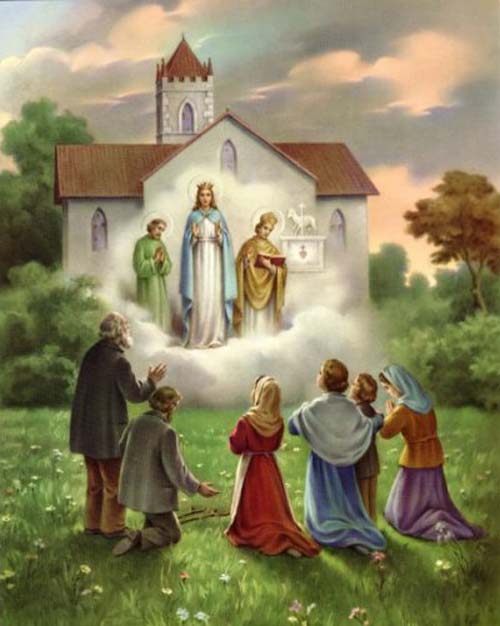 After a half an hour Mary decided to leave and Margaret's sister Mary agreed to walk home with her. As they passed the church they saw the following extraordinary vision very clearly: Standing out from the gable and to the west of it appeared the Blessed Virgin, St. Joseph and St. John. The figure of the Blessed Virgin was life-size, while the others seemed to be neither as large nor as tall. They stood a little away from the gable wall about two feet from the ground. The Virgin was standing with her eyes looking up to Heaven, and she was wearing a large white cloak hanging in full folds; on her head was a large crown.
Mary Byrne ran to tell her family, while Mary McLaughlin stayed at the apparition.  Soon a crowd gathered and all saw the apparition. The parish priest, Archdeacon Cavanagh, did not come out, however, and his absence was a disappointment to the devout villagers. Among the witnesses were Patrick Hill and John Curry. Mr. Hill later described the scene: 'The figures were fully rounded, as if they had a body and life. They did not speak but, as we drew near, they retreated a little towards the wall.' Patrick reported that he got close enough to make out the words in the book held by the figure of St. John. The vision lasted for about three hours and then faded.
The next day a group of villagers went to see the priest, who accepted their report as genuine; he wrote to the diocesan Bishop of Tuam. Then the Church set up a commission to interview a number of the people claiming to witness the apparition. The commission concluded that the testimony of all the witnesses taken as a whole was trustworthy and satisfactory. The first pilgrimages to Knock began in 1880. Two years later Archbishop John Joseph Lynch of Toronto made a visit to the parish and claimed he had been healed by the Virgin of Knock.
In due course, many of the witnesses died. But Mary Byrne married, raised six children, living her entire life in Knock. When interviewed again in 1936 at the age of 86, her account did not vary from the first report she gave in 1879.