There are lots of things we could say about Our Lady – in fact, the Saints say: "De Maria numquam satis" or "You can never say enough about Mary"! However, the most important thing we can say about her is that she is the Mother of God. And, in a way, when we have said this, we have said everything. Because everything else we say about Mary is related to the fact that she is God's Mother.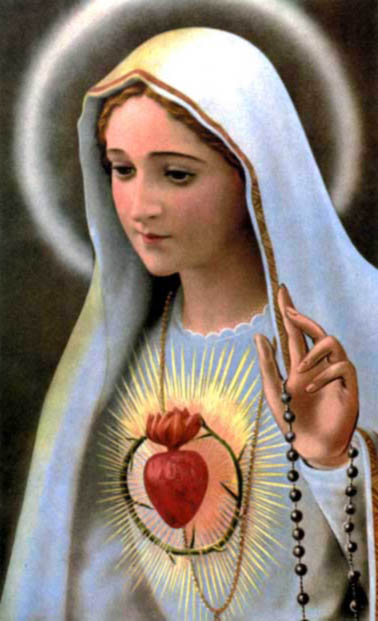 She was full of the Grace of God from the first moment of her conception because she was going to be the Mother of God. From this very first moment, her fullness of Grace was greater than that of all the angels and saints put together. And, still she grew in Grace and holiness right throughout her life.
She is the Immaculate Conception because she had to be a worthy home for Christ, the Holy of Holies. And because she was never stained by Original Sin, she never suffered from concupiscence, the attraction to sin which the rest of us experience every day. Of course, she never committed the slightest personal sin either, because she was full of Grace.
Mary was always a virgin – before, during and after the birth of Christ. At the end of her time on earth she was assumed into Heaven – her body did not have to undergo the corruption of the tomb because she never had Original Sin, the cause of this punishment. She now reigns as Queen of Heaven and Earth.
These are some of the glories of Mary – all connected to the fact that she is the Mother of God. But, what is really consoling for us is to know that she is our Mother too.
How is she our Mother? She is our Mother because she gave birth to Jesus Christ, the Head of the Mystical Body. But, if she is the Mother of the Head, then she is also the Mother of the members of that Body, that is, everyone who is baptised. She is also our Mother because she stood at the foot of the Cross and suffered along with Christ so that we would be born into the life of Grace. Christ is the Redeemer; Mary is the Co-Redemptrix. Everything Christ suffered in His Body, Mary suffered in her soul.
But, not only did she co-operate in our Redemption at the foot of the Cross, like a good Mother she continues to this day to distribute to us all those Graces won on Calvary. Look at the Miraculous Medal – you will see all the rays coming from the hands of Mary. These are the Graces which Christ gives to her every day to hand out to us. And, she doesn't only give us everything we need, she also brings our prayers to Christ. He can refuse nothing to her, His Mother. If you are afraid that your prayers are not good enough, give them to Mary. She will know how to present them to her Son in such a way that He can't refuse to answer them. Think of what happened at the wedding feast of Cana.
"Hail Mary, Our Queen, Our Mother, Our Life, Our Sweetness and Our Hope!"